Should You Turn Teaser Registration Off or Leave It On?
This question affects almost all of our customers, because its a tool in your website that can either hurt or help the return on investment the site receives. First, what is the teaser registration?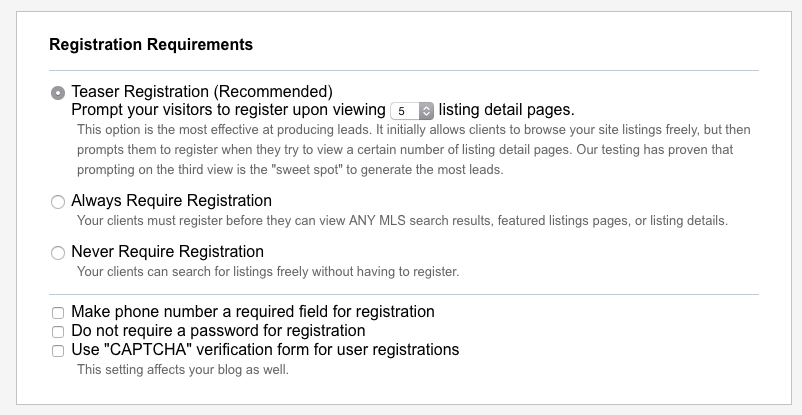 The teaser registration by default is always active for our clients and is located in your admin menu ► Settings ► "visitor Registration"
By default the teaser registration is set to a 3 value. This means after the third viewing of a listing your clients will be directed to the registration page to sign up for the website.

Some clients feel that by forcing a client to the registration page you could be actually hurting your conversion because that client may leave your website due to not wanting to share contact information. This fear causes clients to immediately turn off the teaser registration to "never require registration". Please understand that by doing this, you are cutting your conversion opportunities by half. If you turn off the teaser, there will be nothing else on the site encouraging the clients to sign up (unless you have placed Call to Actions). As long as your site is offering good value and offering good tools for your clients to use, registering shouldnt be a issue. Click Here to download My SEO Syllabus document and reference Page 14 for more info.
Try These Changes First Before Turning Teaser Off
1. Try adjusting the value when the teaser is prompting. By default it is set to 3, but maybe someone who is looking at 3 listings is not a true interested client. By setting the number to 5-6 you may attract better quality leads. With that being said, I have also seen clients work very fast passed areas who set their teaser to a 2 value and still do very well. It is determined by the market, clients, and their needs/goals.
2. Place "Call to Actions" through out the website. A call to action is a simple message the encourages the clients to complete an action such as signing up or registering. Typically a good "Call to Action" should also explain value behind why the client should register. You actually can see a great example of a "Call to Action" on the top right side of this page!
3. Make sure to mention various places on your site and maybe on all the contact forms that you do not sell their contact information. You would be amazed at how much your clients fear goes away when you tell them that their contact information is safe with you and will not be seen by 3rd parties.
4. Our clients have the ability of adjusting the text that is found on the registration page. The registration page is simply you asking for the sale, and its time to put your sales hat on. The default content that exists is very plain and basic, so why not add your personal flavor to spur the engagement of your clients. Position this message as if you have 20 seconds to thank the client for their time and interest and what you can share with them that makes you shine as the unique agent you are. To see an example of a properly structured registration page please Click here.